AUSPL Conference
Register Today!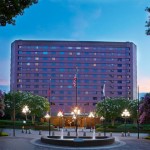 AUSPL Conference 2016
Renaissance Atlanta Waverly
Atlanta, GA
Thursday May 5 – Friday May 6, 2016
Celebrating AUSPL's 35th Anniversary!
Conference fees are $175 per person until April 20, 2016
Registration is Open! Click here
Or call 800-572-9483
AUSPL Meets with Rep. Mark Amodei in Washington D.C.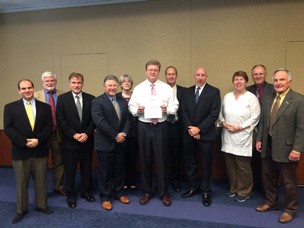 From left, Mark Dattel, Bill Eck, Gary Phillips, Mark  Karolczyk, Sandra Lindsay, Rep. Mark Amodei, Morgan Wolaver, John Heeren, Lynn Cataffi, Keith LaShier and Herb Manig.
On November 4, 2015, Rep. Mark Amodei met with AUSPL members and staff who visited Washington D.C. to discuss issues relating to postal reform legislation. AUSPL President Morgan Wolaver thanked the Congressman for introducing House Resoultion 501, wich advocates support for the rural post office network.
Message from the President
Dear AUSPL Members,
As we progress through 2016, the Association continues its work with the US Postal Service and Congress for the benefit of all AUSPL members. The financial difficulties faced by the USPS continue, and comprehensive postal reform legislation remains on the horizon.  We appreciate the participation of all AUSPL members who wrote to their Congressman in support of the network of leased postal facilities.  We encourage all of you to participate in the benefits AUSPL offers, such as the insurance program, educational newsletters, the AUSPL website, information about lease negotiations, and the AUSPL Conference.
Resources
Moratorium on Closing Small, Rural Post Offices  Through 9/30/16
As reimbursement for the free and reduced rates mandated by Congress, the USPS, through the annual Appropriations Bill, receives money from Congress for "forgone" revenue.